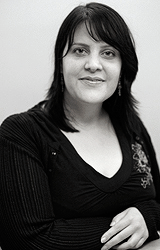 We are Borg & Co
Currently, Borg & Co employs five people:
Nils Borg, Ylva Blume, Jason Erwin, Therese Lindström and Anne Bengtson.
Therese Lindström
Therese has a degree in cultural studies with a focus on history and publishing. She has worked for Borg & Co since 2002, primarily with administration and membership management for eceee, as well as the financial management, website and conference documentation.
She coordinates proceedings for eceee Summer Studies, and leads eceee web and print projects.
Therese also works as a book editor and proof reader.